Pašlaik sākas ANO Drošības padomes ārkārtas sēde par Malaizijas Boeing 777 (MH17), to var vērot tiešraidē – webtv.un.org.
Man, protams, patīk jūsu optimisms, taču es ne uz ko lielu no ANO DP (UNSC) un EDSO (OSCE) neceru.
ANO DP jau ilgu laiku ir bez zobiem gan Ukrainas, gan vēl ilgāk – Sīrijas gadījumā, un tam lielākoties ir tikai viens iemesls – Krievijai ir veto tiesības, ko klauns Čurkins arī nekautrējas izmantot. Tas ir pilnīgs absurds, jo kā gan agresoram drīkst būt veto tiesības.. Rezolūcijas, kad tiek pieņemtas, paliek tikai rezolūcijas. Kad netiek, tad Krievija tās ir lepnā vientulībā nobloķējusi. Pat Ķīna dažos kritiskos gadījumos vairs nav atklāti Krievijas pusē, bet gan "neitrāli" atturējusies. Lai tam visam būtu kāda jēga, manuprāt, DP vajag demokrātiju un nevienam nekādas veto tiesības. Taču, lai pieņemtu tādu lēmumu, būs jāsaņem Krievijas piekrišana, tātad – ..
EDSO - kad tas ir izdevīgi, tad Krievija sauc pēc tās novērotājiem, bet citādi – liek tos nolaupīt, tātad – ..
Lai cik ciniski tas nebūtu, es ceru, ka 300 Eiropas un pārējās pasaules pilsoņu bojāeja palīdzēs ātrāk izbeigt karu Ukrainā, ko rietumos izliekas nemanām. Tagad lokāls reģionālais konflikts ir kļuvis par globālu, tieši ietekmējis Eiropas Savienību. Līdz šim adekvāta reakcija uz Krievijas darbībām ir bijusi tikai no Polijas un Baltijas valsīm, taču vecajai Eiropai liekas, ka tas nemaz nav tik nopietni. Vācijai ir ekonomiskās intereses Krievijā. Francijai ir jāpārdod pāris Mistrāli Krievijai. Itālijai arī nav izdevīgi kaut ko ierobežot.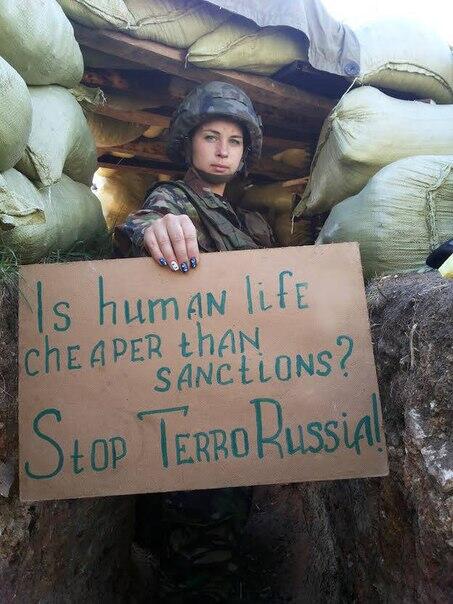 Es neesmu rusofobs vai fašists, taču man nepatīk atrasties blakus tik naidīgam kaimiņam un wannabe impērijai. Var jau runāt, ka tas ir tikai Putins, tikai Lavrovs, ka visi jau Krievijā nav tādi, tomēr pēdējā laikā Putinu atbalsta 86% iedzīvotāju, un man tas neliekas normāli. Tie ir 86%. Tas ir absolūtais vairākums, kas atbalsta svešu teritoriju aneksiju, lai "atjaunotu vēsturisko taisnību", karu ar brālīgajām kaimiņvalstīm pret fašistiem un nacistiem, kuru pirms gada tur nebija. Ja Kremlis tagad netiks apturēts, tas turpinās. Gruzijā to neapturēja, sekoja Krima. Pēc Krimas - Donbass. Pēc tam būs Pārdņestra, tad Narva un Latgale. Kāpēc gan ne, tur ir mūsējie, kurus apspiež.
Kā iespējams 21. gadsimta Eiropā tā tik vienkārši sākt karu? Bez atpazīšanas zīmēm.
Kur ir ES vērtības? Kur ir solītā ES drošība, ja sirdsapziņa karājas gāzes vada galā.
Es negribu karu par mieru, taču Krievija ir jāaptur, vienalga kā, bet jāaptur. Līdzšinējās sankcijas neko nemainīja. Diplomātiju un sarunas tā ignorē, tāpat kā starptautiskās normas un līgumus. Bija taču Budapeštas memorands (!), Ženēvas tikšanās, sankcijas pret indivīdiem. Kaut kas mainījās? Bija novērojama "deeskalācija"? Šonedēļ ASV izlēma par jaunām sankcijām, bet tās nav žņaudzošas. ES, savukārt, nolēma tikai to, ka tā vēl lems par sankcijām. Francijai joprojām gribas pārdot Mistral Krievijai.
Beigu beigās ir beidzot jābūt Nirnbergai 2 – visas pasaules un arī pašas Krievijas labā.